*AMARC Enterprises Inc. (AMARC) offers the information on this site for educational purposes only. AMARC does not sell medicines or supplements which are intended to diagnose, treat, cure or prevent any disease or condition. The information on this website is not a suitable substitute for a consultation with a veterinary health care professional. The information provided herein is a service, including customer and practitioner experiences, and should only be viewed as individual opinion. No conclusions on a pet's condition should be drawn without medical evaluation by an appropriately licensed health care professional. The advice or customer/practitioner experiences on this site are neither intended as, nor appropriate as a substitute for professional care or medical consultations. The information contained herein has been obtained from sources deemed ethical and reliable but is not guaranteed as to accuracy or completeness. It is strictly a resource to assist consumers in making an informed decision regarding their pet's health management. If you have or suspect that your pet may have a health problem, please consult your veterinary health care provider.
"Says Angel Care Cancer Center's director Dr. Gregory Ogilvie, 'I would not be involved in Poly-MVA research if I did not believe it would help the majority of my patients experience an improved quality of life.'"
— Animal Wellness Magazine, Aug/Sept 2007
"It is with great enthusiasm that I see veterinary practitioners taking great strides to accomplish what billions of dollars and years of research have failed to perfect for human medicine. Poly-MVA for Pets is a simple approach of nutritional support for pets undergoing various therapies or with compromised immune systems that can often really work, and is within reach financially for most pet owners. I myself am living proof of the product's potential assistance, having chosen an approach for my own life that included the nutritional support of Lipoic Acid Mineral Complex (Poly-MVA) in the attempt to support my cells and my immune system rather than inhibit it."
— Harry Quick, DVM, nationally recognized veterinarian



"In February, Spooner (my 8-year old Australian Shepherd) was not doing well. Her vet recommended that we begin traditional things  immediately; it was an option that for my own reasons I was not willing to try. A friend faxed me information about Poly-MVA for Pets, and after researching the options, I decided it was the best available option for supporting Spooner's systems to help her body help itself – along with a fresh organic diet, lots of walking and endless amounts of love. By the end of April her health was back to normal. I took her in June for a review and she was in great health. Following that visit, I kept Spooner on a maintenance dosage of Poly-MVA for Pets for six months. If I had it to do over, I would have kept her on the maintenance dose for the rest of her life. In December 2005, Spooner had what appeared to be kennel cough and then vestibular syndrome. An ultrasound showed one collapsed lung and the other full of fluid. When they withdrew the fluid it turned from clear to red and it appeared she was bleeding to death. An autopsy concluded that she did not have a reoccurrence, her heart failed. I will never know the support she could had received had I kept her on Poly-MVA for Pets, but I do know that the approach we took helped to give her more years than any other canine survivor my vet had ever heard of. Inspired by the benefits my beloved Spooner derived from Poly-MVA for Pets, I began taking the human product myself. I know of others who use Poly-MVA for both themselves and their pets. The people at AMARC have always been very knowledgeable and supportive. For everyone who tries Poly-MVA and finds success, another life may be improved or saved."
— Barbara Hakala
"I started my chow on Poly-MVA for Pets right away, along with other nutrients, to help support her immune system. We wanted to try to keep her strong as she was also dealing with other concerns. That was years ago, and she is still full of life and still bringing joy to our lives!"
— A renowned cardiologist/nutritionalist
"One of my cats has been not doing well and I've been supplementing her diet with Poly-MVA for Pets. Within 24 hours of introducing the product into her diet, her energy level increased as did her appetite. She is even more animated in her behaviors at times."
— Debi Canody
"I just started Poly-MVA for Pets a couple weeks ago with my dog in conjunction with other nutritional approaches. His health and energy are improving greatly!"
— Vyolet Michaels

"Just a note of thanks for the phone call I received yesterday. It was a follow up call to make sure that I received the product and to talk about my cat is doing. Your thoughtfulness was very much appreciated."
— Debbie Altarac
"I have used Poly-MVA for Pets in several animals with good results; many of the animals are doing well."
— Gary L. Clarke, DVM
"My 10-year-old chocolate lab, Miss Ally, was not doing very well. There was nothing more the vet felt he could do for her, but he did say, "You might try Poly-MVA for Pets for nutritional support." (He had heard about the product in his training.) I purchased the product after reading more about it, and my Ally is eating again and still taking her 2.1 mile walks a day! I tell everyone about Poly-MVA for Pets. Thank you!!!!!"
— Jan Kellam



"The health of our cat, Maya, was not doing well and we had her on two immune system supplements. We visited an integrative medicine vet who recommended that we put Maya on a maintenance dose of Poly-MVA for Pets. At the center where Maya received her reviews we were told that in her case it impacts others aspects of the body within a year. She is doing well for over two years now. We are very grateful for Poly-MVA for Pets and the support it provided her."
— Gilbert and Priscilla Munz
"I noticed that my 8-year-old Yorkshire Terrier, Mia, did not have the spunk or sheen to her coat that she had prior to her recent situation. A friend of mine was taking Poly-MVA herself, and suggested I try the pet product with Mia. I purchased a couple bottles and began mixing 1/4 tsp into her food. Within one month, I noticed her coat was more shiny and she was once again running, chasing her football and swimming in the pool! It has been two and a half years since then and she is still with me! She remains happy and healthy today. Thank you for your product."
— Jana Sutter, PT
"In July of 2000, I took our 3-yr-old Yorkie Poo, Mashah, to our veterinarian. Dr. Becker suggested Poly-MVA for Pets for nutritional support, large doses at first then decreasing over time. Mashah continues to take a maintenance dose to this day. In July of this year she turned 11 years old! She is very healthy and often acts like a puppy. I strongly believe that Poly-MVA for Pets plays a big part in her continued health. I am grateful to God that He directed me to this product. Thank you, AMARC, for your interest in my pet."
— Susan Seller
"In August of 2006 our Australian Shepherd had little hope for her health, so we took her home. I had read about Poly-MVA for Pets and thought it would be a good time to try it on her. We had great results and she also got back her pep and energy! We were very happy to see her doing so well after just a few months with Poly-MVA for Pets. I think it is a very worthwhile product to try, not only for pets but for people as well. I would certainly give it a try for support if I ever had a serious health challenge."
— Ann Ratajik
"In November 2005, our dog, Roxy, went to Dr. Anyes Van Volkenburg – who with nutrients, dietary changes and energy healing has given Roxy back good health. She is doing very well! The main product Dr. van Volkenburg recommended was Poly-MVA for Pets, and we started Roxy on it immediately. This was indeed a miracle and an answer to our prayers. Four days later she was happy with no dizziness and walking better. After a month or so, the head tilt began to get better. This whole process has taken its toll on Roxy, but thanks to all the approaches we have been taking, she has been happy, healthy and is still with us. Our regular vet is amazed. My husband and I are thrilled and incredibly grateful to AMARC for making this wonderful product available; we feel it has played a big role in supporting Roxy. We cannot thank you enough!"
— Sherry Quarnstrom

"Joey was placed on a maintenance dose of Poly-MVA for Pets on 4/15/2008 and now takes 1/8-1/4 tsp daily. He was reevaluated in July 2011; he has done well for the past 3 years. He has since continued to take Poly-MVA for Pets."
— Richard Sass

"I took my 12-year-old cat, Giselle, to visit a holistic veterinarian for advice. He told me he was getting great nutritional support results with a product called Poly-MVA for Pets. Giselle has been on Poly-MVA for Pets for 10 months now. She is doing great! She has more energy than ever. We are so grateful for this product. And her original doctor who had worked with us at first has been amazed! Thank you!!!!"
— Steve and Sheila Lopresto
"In 2002, six months after Daisy's first visit  to the vet, all of a sudden, after sleeping with me for all thirteen years of her life, my Daisy would no longer even get in my bed but instead retreated to a little cardboard box and only came out to eat or use her litter box. I was so sad when the vet informed me that she was probably preparing things. I ordered Poly-MVA for Pets after learning of it at one of the Yahoo Feline Cancer groups and started Daisy on it immediately. On the fifth day of being given the product, Daisy came back into my bed and began once again to sleep and cuddle with me just like she used to; I could not believe it! She even started playing with her favorite toy, and once again ate well and used her litter box as if nothing was wrong. For eight more months, I got to enjoy her company and I did not waste a second of our time together! In September 2003, my darling little cat finally had to be put to sleep; she had been struggling increasingly with her breathing until it was clear to me I had to do the last loving thing and so I set her spirit free where no pain or discomfort could reach her. I will always be so grateful for what I saw with my own eyes as how she responded and stayed with me. I strongly feel that Poly-MVA for Pets helped give me more time with my beloved Daisy and I do want to say thank you from the bottom of my heart. I would not hesitate to recommend the support this product may provide to anybody seeking excellent nutrition and energy for their pet."
— Anne Lombardo Ardolino
"In June, my Akita, Logan, who seemed to be in perfect health, started not feeling well. I searched for options for immune and nutritional support for him. At the recommendation of a friend, I was led to Poly-MVA for Pets and immediately started him on it. Very soon after he started taking it, I noticed his old spark come back. He quickly improved even after a rather extensive surgery and began living his life the way he always had. He had increased energy and appetite and wanted to take more walks and have more play time outside than before his surgery. I had Logan with me for four more great months in which he had an outstanding quality of life that I attribute significantly to the Poly-MVA for Pets. Logan's last months were full of life. He even swam for the very first time. I absolutely recommend Poly-MVA for Pets and wish that more veterinarians would incorporate it into their approaches. Thank you!"
— Linda Chase
"Tosca, our beloved Golden Retriever, at 13 years old had his spleen removed in July of 2001. The prognosis for Tosca, given to us by  a leading veterinary clinic in our area, did not make us happy. Our decision was based on Tosca's stress and anxiety over any medical procedures at the clinic. We wanted his life to be free of veterinary pain and discomfort. We then contacted a holistic veterinary clinic in New York and were told about Poly-MVA for Pets. We started Tosca on the product immediately, along with a more healthy diet and tons of love. We are so happy to write that he is here with us and we are preparing to celebrate his 14th birthday in May. These six months has been a gift to all of us and we credit Poly-MVA for Pets with being a big part of the reason Tosca had the strength and health to enjoy living."
— Emerald Ducoeur



"Our precious cat, Shadrach, wasn't feeling well in October of 2007. That is when we learned about the support Poly-MVA for Pets might be able to provide. We immediately began giving him the product twice a day. Here we are, almost one year later, and Shadrach is doing WONDERFUL!! I thank God for leading us down the paths that have helped him. I also want to thank the AMARC staff for all their help. They were always so sweet, compassionate, and knowledgeable. Thank you all for Poly-MVA for Pets."
— Bob, Jeane and Megan Hafley
"We want to thank you so much for all that you and your company do. Around October 2008, our sweet gentle Border Collie, Lady, developed an ulcer on her lip. We never heard back from the veterinarian and wondered what we could do for her. We were at our family doctor and were told about Poly-MVA for people – and that they also had a line for pets. AMARC's staff was so sympathetic and helpful, and overnighted the first bottle to us. Lady had just been lying around, barely moving, and not eating at all. Fairly quickly she began eating again. She continued to improve and had life again. We ordered more bottles, and over the next few months we religiously gave her the Poly-MVA for Pets. Her favorite food was Popeye's Spicy chicken, and she didn't eat much else but she was having good quality of life again. Unfortunately, the cancer in her mouth and head continued to grow until her head was grotesque on one side, and she began having breathing problems with the summer heat coming on. She could no longer eat and swallow. It was apparent, even though she wanted to live and be near us, that something had to be done. After exhausting all means possible, we had to put our dear Lady to rest. She's still in our back yard, and we think we see that flash of black and white running around the back yard, just like she used to do. Thank you so much for the time  we had with her, and for the amazing quality of life that she had during that time. And thank you to Tracy and others who faithfully called us to check on our beloved pet. Please keep up the good work. We tell everyone we know what a wonderful product Poly-MVA for Pets is!"
— Jack and Claudia Marrow
"In early March of 2002, my 9-year-old Shih Tzu, Spike, was seen by the vet he had been seeing for years and didn't have any options for us. We sought out another vet who was said to be excellent and had a lot of experience dealing with dogs like Spike. Time was not on our side. Spike was operated on the following day his prognosis was very poor at best; in the meantime he was on tetracycline, transfer factor plus (4life), omega 3 and CoQ10 to try to boost his immune system. His carbohydrates were restricted. During this time a friend had me talk to the owner of Wolfstar Pet Foods Corp, a company that produces raw organic dog food. She in turn put me in touch with a naturopathic vet who introduced us to Poly-MVA for Pets. He also recommended the raw organic dog food, Dr Schulze's Superfood and Primal Defense, a probiotic formula and steamed distilled H20. I asked our new vet if he would look at the info I had collected on Poly-MVA for Pets. He was impressed so we went with Poly-MVA along with the raw dog food and all the above mentioned supplements. In 2002, Spike was checked and found to be in good health. We have eliminated the tetracycline and cut the Poly-MVA for Pets from the original dose of 6cc a day to 3cc then down to the present 2cc a day and will continue to monitor him. Today we have a spunky, healthy, happy little Spike who just turned 10 but acts more like a 5yr old! Thank you, AMARC, for your incredible product and for your patient and helpful staff – they took time for me whenever I called with questions. Thanks also to two wonderful dedicated veterinarians, a lovely lady who cares so much about pets that she came up with a back-to-nature pet food and thanks to a special friend who pointed me in the right direction. (UPDATE February 2004 – Spike turned 11 on January 4th and continues to enjoy excellent health with the energy of a younger dog. We have kept him on the raw organic dog food, 2cc of Poly-MVA for Pets daily and the supplements and steamed distilled water mentioned in his original story. In addition, we have added Coral Calcium and Joint CM Complex for joint support. When we have halibut or (wild) salmon, Spike has it as well-cooked with pureed organic vegetables. He loves it. No, he's not spoiled!)"
— Megan Rodolf

"Our dog, Sergei, took a sudden turn for the worse this past week. His poor health progressed suddenly and unbelievably quickly. He took his Poly-MVA for Pets right up to the last two days. I really feel like it helped give him a greater quality and quantity of life with us. He carried on a very normal life until two days before he died. He had no signs of being ill whatsoever during these entire five months until just a few days before he died. We are so saddened by his loss, but grateful for the extra time we had with him as a normal dog with a normal life."
— Deb Dolak
"One of my cats could not keep any food down since her intestines were blocked. After surgery we took her home. She had lost so much weight and looked miserable. We started her on an approach that included Poly-MVA for Pets, plus transfer factor for pets and some of the best acidophilus/bifidus I could find at Whole Foods. We gave all this to her twice a day at first, then once all mixed in goat yogurt (which she loves). After a week or two of doing this, she started jumping around effortlessly as she used to do as a young kitten. This was almost two years ago!! She still takes everything each day. She is well and is now 13+. I have to thank everyone who, by their research and dedication, helped create and put on the market this wonderful product. I don't know exactly how it works, but we feel it provided significant support for our cat."
— Michelle Taja Miller
"Even though my dog, Scooby, eventually passed away from severe organ failure, I wanted you to know how much we feel her quality of life was improved upon by the support of Poly-MVA for Pets since our first introduction to it a few years ago. Thank you for having this product available. I am going to continue my use of it at a maintenance level with my other two new dogs and any more that I may adopt."
— Scott Hicks
"My Mini Schnauzer was not feeling well in April. We felt had no other options at that point. That was nearly three years ago! He has been taking Poly-MVA for Pets since that time and we believe it has played a big role."
— Marc Humphrey



"My chocolate lab, Kahlua, was under the care of Dr. Terri Morrison, told me about Poly-MVA for Pets for support – and that she recommended it highly and has seen good results with it. Kahlua lived six months even to the end, when she could only eat pureed food. Kahlua – my strong willed, perfect girl – loved to eat. I feel without the nutritional effects of Poly-MVA for Pets her quality of life would have been less. I firmly believe from experience that once you cannot eat, you lose your fight to any significant health challenge. The AMARC staff was helpful, supportive, and loving, and I cannot say enough good about this product and company. Thank you for a product that can help our pets fight horrendous battles and live healthier."
— Sophia Mackiewic"
"I have two experiences I would like to share; one human and one cat. Let me start with the cat:
1) My 10-year-old cat was a typical case with aging cats. The vet told me that nuclear therapy was necessary for my little guy. He means the world to me, so I wanted to give him every chance for life. I spoke with my mother, who has been using Poly-MVA for Pets with her cat for about a year. She swears by the support of Poly-MVA for Pets and told me to try it out. After all, her cat was having improved nutrition and quality of life. I started my cat on the product shortly thereafter. My first impression of the AMARC staff was great, especially Toni in Customer Service. Talk about a knowledgeable and understanding person! Yesterday I went back to the vet after supplementing my cat's diet with Poly-MVA for Pets for only two weeks. My vet asked what I was doing and  that I had been using Poly-MVA for Pets and lots of love to support him. She sighed a little and shook her head. Today, his blood test results came back completely normal. His coat is shiny again, he plays and his eyes are crystal clear again. I write this with tears in my eyes and for the first time in a long time, they are tears of joy. I feel that I owe a lot of his spunk and increasing health to the benefits derived from Poly-MVA for Pets. It turns out it was not a problem with his thyroid, but rather a problem with his kidneys which was spiking his thyroid count. This was discovered because once his thyroid count lowered, it stopped the masking of the other issue which is also well on its way to being addressed. Best thing is, my vet is ordering Poly-MVA for Pets next week to utilize with other pets she sees.
Now for the human story:
2) My dad was dealing with some tough issues and had been for many months. His was using some very expensive anti-inflammatory meds costing about $360 a month after insurance. Based on my cat, my mother's cat and the other stories I have read concerning observed and potential benefits, I bought him a bottle of Poly-MVA. He has now been on Poly-MVA for one week. He recently went out dancing for the first time in two months, and is feeling better. He is going to order it on his own from now on. He looks great. His only concern was getting a shiny coat and grooming himself in public! Ha.
To wrap all this up – I am now taking Poly-MVA for myself as a part of my daily regimen for daily nutritional maintenance. I will admit I was a skeptic before I saw what has happened to the ones I love with my own eyes. There are so many bogus ads and false claims out there that it is hard to differentiate the real from the fake. Whoever is reading this, I want you to know this is not a false product. This is the real deal. It is not a miracle  for everything, but I believe it has offered a lot to my loved ones and me. I am willing to speak to anyone about this, anytime. Email me at erikpjay@yahoo.com. Thank you, AMARC, for this product. Thank you for everything it has done for my mother's cat, my cat and my father. You have a customer for life."
— Erik Jay
"When we found out Nesta wasn't doing well, I was devastated. We were told they didn't know what to do. I wasn't willing to accept that, so I got on the internet and found books and articles on ways to better support her systems; those efforts led me to Poly-MVA for Pets. We had a bottle overnighted to us and began giving it to Nesta. After giving her Poly-MVA for Pets – along with several natural, holistic supplements and many, many prayers – we began to notice a change in her behavior. While Nesta had been so very, very  lethargic, she began to start acting more like the hyper, playful little Nettie. She has had her ups and downs, but she feels good most of the time and still enjoys her little life. She still loves to go to the park in the early morning to chase deer! After 1 year and 10 months, our little girl is still with us and I thank the AMARC associates so much for Poly-MVA for Pets. We believe it helped, as part of the whole approach we were using, and will give it to Nettie the rest of her life."
— Renee Alsbrooks

"Reina started using Poly-MVA for Pets in March 2011. It is now into 2012 and she's otherwise happy, eating well, enjoying her walks, enjoying her sleep with very loud snoring. She's approaching her 12th birthday on Feb 13."
— Jessie Yeo-Sim
"Aladin is my honey of a dog. I strongly believe that Aladin's quality of life has greatly improved through the nutritional support provided by Poly-MVA for Pets and other supplements as well. Please send me some extra pamphlets on Poly-MVA for Pets so that I can share the info with others. I was so inspired reading other pet owner stories. Thank you again."
— Maria Hunkele
"I have to admit at the beginning I was skeptical that Poly-MVA for Pets would have any effect at all on Connor. It was difficult at first to get him to take the product, but with persistence he became more co-operative until it was just routine. I honestly believe Poly-MVA for Pets has contributed to giving Connor more time and better quality of life than had he not been given it. He is still happy and enjoys chasing his ball every day. I am still hoping for a miracle!"
— Amanda Brand-Connor

"Buddy wasn't given many options, because of the aggressive nature of his situation; however, he remained strong and active for a year." (View Buddy enthusiastically opening the box containing his Poly-MVA for Pets.)
— Dave Johnson
"Poly-MVA for Pets is amazing! I completely feel it has supported Dakota's quality of life though her journey and after. I can't believe it's been 12 months already. The doctors were not hopeful. She tolerated the product very well – never had any problems with any reactions or taste. She ate well, she was playful again, normal functions, no tiredness! Dakota still takes it daily with her food and has positive effects. It is easy to use and easy to order. I recommend Poly-MVA for Pets to all my friends with pets. Also recently a friend of mine is dealing with health challenges – I will be sure to tell her all about Poly-MVA for humans. Thank you so much for making this process so much easier and more hopeful than it would've been without it!"
— Amy Arnold

"Our 14-year-old German Shepherd/Doberman mix dog, Petey, was not well in April of 2011. Because Petey is an older dog, we felt that doing anything harsh or difficult to him like surgery would have been too much for him to handle. So we opted to use a holistic approach including Poly-MVA for Pets. We feel Petey's response to this approach has been AMAZING! In addition to positive results, Petey has enjoyed excellent quality of life. He eats well, has no problems, and he has a great energy level for an older dog. Petey continues to walk every day and is enjoying the quality of life that this beautiful, senior dog deserves. I firmly believe that Poly-MVA for Pets has given Petey a good lifespan and provided the nutritional support for his immune system (to help his body help itself). It is our belief that the more difficult the options, the more trauma is created and his life expectancy would suffer. Petey will be 15 years old this June! We are approaching one year on Poly-MVA for Pets and we couldn't be happier with the observed results! Thank you for helping us support our dog in a healthful, holistic way that we feel has yielded obvious, positive results."
— Jeanine Nostrame & Chris Mazzo
"We are so thankful that our Shetland Sheepdog, Joey, has remained completely healthy for four wonderful years. He is now 11 years old and still our 'baby' – energetic and beautiful! We are very grateful to have found Poly-MVA for Pets. He will continue to take his maintenance dose for the rest of his hopefully long life. He will be accompanying us to the beach this summer for a vacation."
— Richard S.


"When Frieda was not doing well in January 2011, the first thing my holistic vet recommended was the nutritional support Poly-MVA for Pets might be able to give her. I began researching the product and discovered Dr. Greg Ogilvie's research. Frieda had surgery and in Frieda's case, there was no evidence of hypercalcemia. Frieda continued on the normal dosage of Poly-MVA for Pets. In addition to the Poly-MVA, we're using homeopathy and Chinese herbs. My biggest concern in the beginning was maintaining an excellent quality of life for Frieda, and thankfully that has been possible. People who meet Frieda are amazed that she is almost 11 years old because of her energy and enthusiasm. She loves Poly-MVA for Pets and I'm very grateful to the folks who researched and created this product. It's a great addition to any dog's diet, but it can be especially helpful in supporting a great quality of life for dogs that need more help. I highly recommend it! Also, I have been using this product since February 2011 and have called AMARC Enterprises numerous times. In the beginning, I had lots of questions and spoke many times with Gary. He was extremely knowledgeable and very helpful. On other occasions when I called, I spoke with Toni and Vivien. Both of them are very patient, always interested in Frieda's continued status, and they answered all my questions. It's just a very pleasant experience to call a company and actually talk with an intelligent, helpful person.  Excellent customer service is what you get with AMARC."
— Jane Williams
"My pet, Noki, and I found Dr. Richard Palmquist in 2011. He started Noki on a natural approach that could detoxify her body and try to strengthen her immune system. Immediately after that, in January 2012, upon Dr. Palmquist's recommendation we started using Poly-MVA for Pets. My dog likes the product, which is a good thing – she takes it with her favorite food and finishes the dish immediately. I am not sure what effects the Poly-MVA has had on my dog; she has a good energy and appetite, and is in generally good health for her 14 1/2 years! I like very much the care, attention and support that AMARC Enterprises provides. I think it is wonderful to know that companies continue to develop integrative healthy options for support that will not harm or have dangerous side effects for our beloved pets and ourselves."
—  Yael Pardess

"Our dog, Blackie, was in good health until one day we found him at the base of the stairs collapsed. He could not even rise on his own. We rushed him to the emergency vet clinic and I decided, after seeing his wagging tail and loving sparkling eyes, to take him home for hospice care. I had some leftover Poly-MVA for Pets that I had given to his late father, and immediately ordered another 8-ounce bottle. Overall, I decided to take care of Blackie holistically. I am now making homemade food for him, and I also have him on a holistic approach that includes Poly-MVA for Pets. It is now over 3 months later and Blackie is thriving! I take him for his daily walks, and he barks for his food every time I mix it up for him. Blackie is even more affectionate to me. My advice to other pet owners – don't be afraid to try holistic approaches for your pet's health challenges! And the customer service you receive from AMARC Enterprises is fantastic. They will talk you through any concerns or questions you might have, and are very understanding and friendly."
— Brian Bramwell

"I rescued Clyde, my 6-year-old Chihuahua mix, five years ago after he was run over and left to die. My vet, Angel Mitchell, saved his life, and although he lost an eye and has numerous scars and a permanently broken back leg from the accident, he has a strong spirit and loving heart. He's my baby boy and constant companion! Clyde began having behavior changes and balance problems last fall.
My vet suggested a holistic consult and we started him on a holistic approach in January 2012. We gave him various things like immune-boosting herbs, the veterinarian recommendations and large doses of Poly-MVA for Pets twice a day for nutritional support. It's now been almost seven months, and Clyde is doing well! Dr. Mitchell said he looks terrific with good signs. I'm grateful for every day I have with him!"
— Maria West

"Sassy was 12 years old when I had my concerns. My cousin had given Poly-MVA for Pets to her cat, and she felt that the product had contributed to helping the cat live a long, healthy life. So I started Sassy on the product. Over a year and a half later she is happy, playful and has a great appetite. She remains on 3 cc/day of Poly-MVA for Pets, and is doing well. We are spoiling her rotten for whatever time she has left and enjoying every minute with our precious little girl. I strongly feel that the support Poly-MVA for Pets is providing is helping my pet to have a good quality of life. AMARC is wonderful to deal with and the fast shipping ensures I always have the product on hand."
— Donna Griesmeyer

"We will be celebrating Po's 14th birthday next week. When she was 12 ½ years old she was feeling very tired, and we didn't think she would make her 13th birthday. By the grace of God, the nutrition and subsequent benefits that we feel Poly-MVA for Pets is providing, Dr. Jacqueline Ruskin with Smith Ridge, and Po's vet Dr. Brandy Morgan, she has had a healthy, happy quality of life so far. We thank you so much!!!"
— Rebecca Redd

"When Gizmo was feeling kind of down back in January 2011, Darryl and I felt very helpless and wanted to do all that we could to help him out. We knew we would be putting him through an extensive regime and that even though there would be minimal effects from this, we had to do this to keep him healthy. Gizmo didn't feel very well for a while so Darryl and I researched options and things we could do to help him nutritionally. That's when Poly-MVA for Pets came into the picture. Our vet at the VCA Hospital Kaneohe told us about the product, as she has recommended it to others, and that she and other vets had seen success with other pets. After extensive research and conversing with Poly-MVA for Pets specialists, Darryl and I realized that we didn't have anything to lose by trying it for nutritional support. Gizmo has been taking it regularly ever since and we couldn't ask for anything else for him. Gizmo has been doing well since August of 2011 and we want to help him stay this way. Our message to other pet owners wanting the best for their pet: Poly-MVA for Pets is not an inexpensive supplement but we strongly feel that it is priceless to be able to try to maintain the health of your loved one. We recommend the product for support to anyone we encounter; they want to help out their pet but don't know what they can do, and are very pleased with the benefits that Gizmo has shown. His vet and others always ask about how he is and how he's doing and after going through thorough exams, he's still doing well. We truly believe in what we feel that Poly-MVA for Pets offers our pet – he has a lot of energy again and is back to his old self, and his tests show good. Give it a shot and see for yourself; there's nothing to lose with trying! (UPDATE June 2015 – Gizmo is still thriving and doing well; we just celebrated his 8th birthday!)"
— Jessica and Darryl

"Barclae is our 11-year-old Scottish Terrier who has had ups and downs over the last couple of years. After several surgeries, vaccine treatments and others, we came upon Poly-MVA for Pets through Drs. Robert and Susan Goldsteins' book and Dog Fancy magazine. We began using Poly-MVA for Pets for nutritional support in late June of this year and have been administering 2ml twice a day since then. Barclae's energy seems to remain high, his tests show well and he is always in good spirits. He eats well, and we use a couple dozen holistic supplements in his daily diet. We only use the best dry dog food and stay away from any artificial ingredients. We do not use any chemicals on our yard and do not walk him past any neighbor who uses chemicals on their yards. We would definitely recommend Poly-MVA for Pets to anyone."
— Deb & Doug Kozisek

"Connor wasn't feeling well in July 2009 and not given many options. We knew we would have to change some things to keep him strong. At this point we started him on Poly-MVA for Pets. That was three years ago. Connor has had a wonderful three years! We would recommend Poly-MVA for Pets to anyone seeking support for their pet. We feel that Poly-MVA for Pets supported Connor and our family for three wonderful years together. Thank you!!!"
— Amanda Brand

"After a visit to the vet in January 2011, Guinness was put on a high dose of steroids. Although she initially responded well to the steroids, we reached a point where she seemed to plateau in her progress. In March 2011, I decided to taker her to a holistic vet, Dr. Richard Palmquist. He recommended that I give Guinness Poly-MVA for Pets in conjunction with the holistic supplements for nutritional support. With the addition of the supplements and Poly-MVA for Pets, I noticed a marked increase in her everyday function and energy level. It is now October 2012 and we are still going strong, self-sufficient and very functional. I strongly feel that a lot of her success is attributable to Poly-MVA for Pets and would recommend this product to others. Furthermore, AMARC is a very personable company who really cares about its products and the pets that are taking them. I have had a very good experience with AMARC as a whole and an even better experience with the Poly-MVA for Pets product. I know in my gut that Guinness has been thriving in part because of this product, and even though it is pricey, it is without a doubt worth the cost!"
— Jenna Chang

"In October 2011, my 11-year-old Golden Retriever, Lucy, became lethargic and her behavior changed. Even though it was non-cancerous, it was recommended that we use radiation or it would continue to grow and result in a life-threatening seizure. We were told Poly-MVA for Pets could provide nutritional support. Lucy did very well through all things and has continued to lead a healthy life for the last year. Her energy levels are consistent with what she was like before, and she has had no major health concerns since. While we can't expect miracles for a big dog, we are grateful that she is healthy and happy during the remaining years she is with us."
— Laura Kincaid

"Sunshade went to the vet in in October 2010, a month before her 11th birthday. We began the Quality of Life program in February 2011 and Sunshade started taking Poly-MVA for Pets. I took advantage of a discount and purchased 20 bottles of Poly-MVA for Pets. I continued to give Sunshade anywhere between 1-2 tablespoons per day. I truly believe that the nutritional support Sunshade has received from Poly-MVA for Pets has had a lot to do with her good health. Sunshade will celebrate her 13th birthday next month. She has a great quality of life and we are enjoying every minute that we are being gifted with to the fullest. My experience with AMARC Enterprises has always been extremely positive; both Vivien and Gary have been very supportive and caring. Whenever I had a question or concern, I could just write or call them, and my question would be answered by the next day at the latest. I would absolutely recommend Poly-MVA for Pets to others – and I have!"
— Elaine Hu

"In August of 2009, our dog, Jazper, was not doing all that well. I was told I had two options, neither one of which worked for me. I refused to accept that after 9 years of relative good health, out of nowhere, my fuzzy little boy was going to be dead within a matter of months. Our vet, Dr. Herbold, recommended we try Poly-MVA for Pets for energy and nutritional support, so we started him on it immediately. We noticed a difference that night. Jazper had been lethargic and anxious from the dozens of doctor's appointments and all of the frenetic energy in the house. Within hours of giving him the Poly-MVA, he began playing with his toys and even got "the crazies" at one point. I knew instantly that I made the right decision. I am an herbalist, so I researched additional integrative approaches. Jazper also takes 15 ml of essiac tea twice a day, as well as powdered snake meat with his meal. Something else I would like to share…In October of 2009, Jazper swallowed a corn cob, which resulted in ailments that could possibly kill him. Jazper's doctors told me that it never occurred to him that he wouldn't get better and go home. I attribute some of his positive energy to the Poly-MVA. He is easily the most strong and loving soul I know. It's been 2½ years since his health challenges and 2½ years since he started taking Poly-MVA. He's had his share of illnesses and is starting to slow down, but I believe that the Poly-MVA has supported him through it all. Even with aeverything, Jazper is still full of life and love. I recommend Poly-MVA for Pets to anyone who will listen, and everyone who has taken my advice has seen similar positive results. I tell people that even though it's expensive, if you have the means it's worth it. I truly believe it's helped increase Jazper's quantity and quality of life."
— Patricia Perone
"I started my dog, Otto, on Poly-MVA for Pets for nutritional support. I feel it has greatly supported his immune system and as part of a healthy approach has helped him maintain a good quality of life. Poly-MVA for Pets is a great supplement; I highly recommend it to all."
— Anne Marie Andriano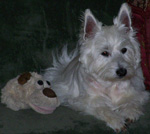 "Ollie has not been well off and on for about six years. He was using a detox liquid to help with his issues. The vet recommended Poly-MVA to support him nutritionally. He has been using it for about four years and is still going strong. The vet said that he'll see him when he's 20 years old! The AMARC staff is very positive and helpful!"
— Mary Sedgwick

"I give Poly-MVA for Pets to my dog, Baby Bell, for general health. I was giving the product to my other dog, Sushi. Her prognosis wasn't good for a few months. We had her for an additional two years. Sushi lived with a good quality of life. We feel that the support Poly-MVA for Pets gave her helped –  her coat was shiny and her energy was great. She would run and bark. I had to eventually put her to rest. I have told several friends about Poly-MVA for Pets. I feel the AMARC staff has always been helpful and caring. I look forward to sharing and continuing to use Poly-MVA for Pets for my Baby Bell."
— Ruth Infante

"When Caesar first started on some specific treatments, we noticed that he was very lethargic afterward- and by the time he got his energy back, it was time for another dose.  We were recommended to Dr. Brockman who practices in Nashville, TN. After our initial visit we walked away with a wealth of knowledge and most importantly, a bottle of Poly-MVA for Pets for support! We gave him the recommended dosage by Dr. Brockman of 6mL once a day. The next morning Caesar sprinted from his kennel like he was a new pup! My wife and I were both shocked!!! It really was something; he played like normal, had abundant energy, was (for lack of a better term) "normal"! Soon it was like nothing happened. Caesar is just over six years old now, which is a far cry from the initial dismal news of only lasting six months. I strongly feel that without Poly-MVA for Pets, and the support it gave his body, things would be very different around the house. Caesar, at six years old, still has the stamina and energy of a 1-year-old pup. Most of the time he wears me out during playtime, before I can wear him out! We greatly appreciate Poly-MVA for Pets!"
— Matthew Cantine

"Our German Shepherd, Lucky, needed help to support her overall health in various ways. We gave her 2 tsp of Poly-MVA for Pets for nutritional support for a full year. Her overall experience has been good. She has had two blood tests in a row and they show results as if she were a 3-year-old and she is actually 16! Lucky is doing awesome and her quality of life has been good. She has been mobile and active." (UPDATE February 2016 –  Lucky continues to do well. She is 18 years old, going to be 19 this spring. She is such a sweetie. We appreciate Poly-MVA for Pets for keeping her mobile and active.)
— Kathy Brown


"In June 2012, at age 14, Haley was dying in the backseat of my car as I rushed her to the ER. My vet told me her prognosis was slim. But he encouraged me to try. I forged ahead. I wanted to explore all options to help her. After reviewing the options, I decided to pursue an integrative approach. I found fantastic holistic veterinarians which helped create a integrative approach, including Poly-MVA for Pets. I started giving her the supplement (1 tsp, twice daily). Haley did not have any side effects from Poly-MVA for Pets and it contributed to a better quality of life for her. Since it's a liquid, it is very easy to give; I simply added it to her food. I would definitely recommend Poly-MVA for Pets to others! I appreciated the calls and emails from AMARC to check-in."
— Rachel Moreno


"In March 2015, my 10-yr-old cat, Tyler, began having decreased appetite. X-rays and blood work revealed concerns, and our vet referred us to a specialty hospital; we were shocked at the various options. We elected to take Tyler home, continued his regiment and immediately ordered Poly-MVA. When we received, we started Tyler on 1/4 tsp daily. (I knew about Poly-MVA from the successful experience my sister had when she gave it to her dog, Po.) A month later, Tyler's info was great and he was back in the normal range. My vet was amazed how quickly he bounced back; we will check on him again in 6 months. Tyler is on nothing other than Poly-MVA, taking a maintenance dose of 1/8 tsp daily mixed in with canned wet food. Even the scans show that all is well. He has a great appetite, and is playful and full of energy. It has been nine months now and I truly believe Poly-MVA was a major factor in Tyler's health. I will continue to give him the daily maintenance dose as long as I am blessed to have him."
— Cathy Danehart

---
To read success stories for Poly-MVA for people, please click here.